URGENT HIRING
 DRB SALES, INC.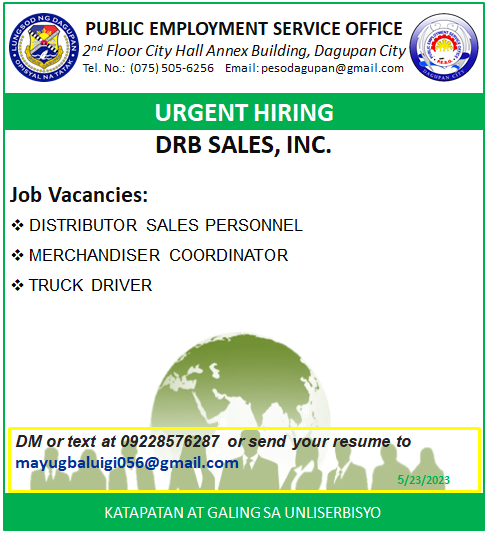 Job Vacancies:
DISTRIBUTOR SALES PERSONNEL
 College graduate (4-year or 5-year course)
 With or without sales experience.
 Male, of legal age.
 Good communication and interpersonal skills.
 Willing to work in the field.
 Knows how to drive a motorcycle and has a driver's license.
 Can start ASAP.
MERCHANDISER COORDINATOR
 College graduate (4-year or 5-year course)
 With supervisory experienced for at least 1 year.
 Male, of legal age.
 Good communication and interpersonal skills.
 Willing to work in the field, Pangasinan Area only.
 Knows how to drive a motorcycle and has a driver's license.
 Can start ASAP.

TRUCK DRIVER
 At least high school graduate, or college level
 Male, legal age
 Physically fit or athletic
 With a Professional Driver's License (Restriction 1,2,3)
DM or text at 09228576287 or send your resume to mayugbaluigi056@gmail.com