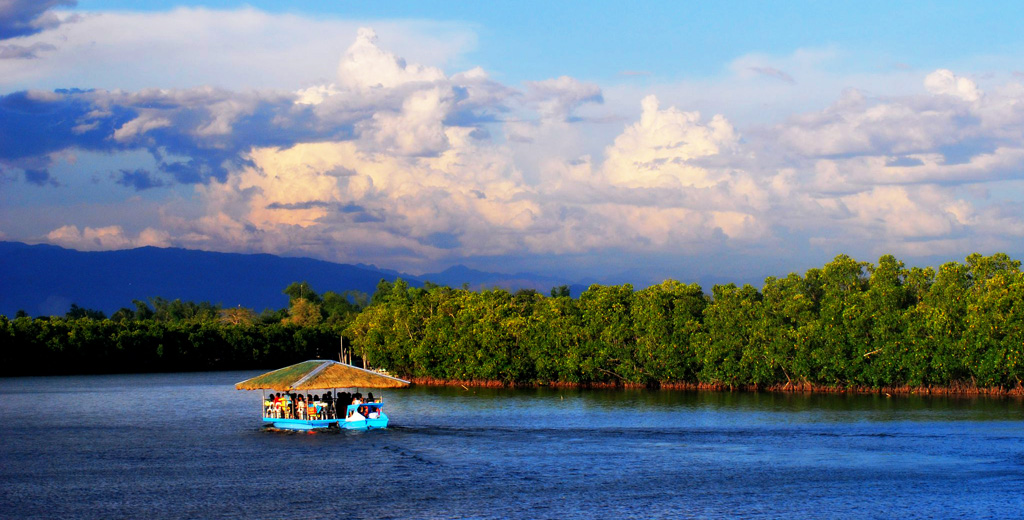 The Dawel River Cruise takes us back to the time of the forefathers of Dagupan City when the early settlers painstakingly built fishponds with their bare hands and simple tools, the present when the rivers have been revived and revitalized until the future when the fruition of the sparkling clean rivers are enjoyed by the next generation of Dagupeños.
The Dawel River Cruise will let you experience the serenity and pristine beauty of Dagupan's rivers. One would definitely enjoy the refreshing breeze, invigorating sight of the clean river, mangroves, different avian species, various freshwater fishes including Dagupan's treasure and the world's tastiest milkfish– the Dagupan Bangus!
One of the eco-tourism and livelihood projects of Dagupan City Mayor Benjamin S. Lim, the Dawel River Cruise starts from the newly built wharf or quay at the foot of the Dawel bridge in Catacdang, Bonuan Gueset. The cruise which would last for about an hour, passes through Dawel and Watac-Mamalingling- two river tributaries of Pantal and Bayaoas rivers. Pantal and Bayaoas rivers are two of the Seven Rivers of Dagupan City which include Patogcawen, Magueragday, Paldakit, Calmay and Tanap.
The Dawel River Cruise which was launched in this year's Bangus Festival, will feature a floating restaurant with water-resistant audio-visual facilities, day spa cruise and serenading local musicians. Each boat is made of an engine-powered flat deck catamaran with two hulls. Its roof is made out of Nipa palm leaves securely fastened in stainless steel frames. From afar the boat looks like a floating Nipa hut or bahay kubo. As of today, there are three boats that are available for the cruise. The medium sized boats can seat around twenty five (25) persons while forty to forty five (40-45) persons can fill up the big boat. Safety provisions like lifesavers for each passenger are placed in boat railings. Boat drivers, boat assistants and tour guides are trained swimmers and rescuers.
Along the stretch of the riverbank where the boat passes, one could see lush green trees called mangroves or bakawan. There are about fourteen (14) identified species out of the forty eight species of mangroves found in the Philippines.
Situated at the turn-about of the cruise are ruins of the old railroad track built in the early 1900's that lead to Damortis. Provisions for kayak rentals, souvenir shops, snack bars and restrooms strategically placed in pit stops of the river cruise are also in the works. One of the special features of the cruise is the feeding of large bangus weighing an average of seven kilos in one of the pit stops of the cruise.
So the next time you visit Dagupan City, be entertained and captivated by the Dawel River Cruise.
Enjoy your stay here. Have fun in Dagupan!
Written by: Simon Franics Blaise Rayos Vistro