(Message of Mayor Brian Lim during the flag-raising ceremony on March 2, 2020 at the PNP Grounds.)
Good morning!
Asinger lay summer. Asinger met lay Bangus Festival.
Alam niyo po, during the month of March, we witness two things. One is — as I have mentioned — amay pasabi na ampetang ya panaon, awa? Tan mikaduwa, say Marson atan met so bulan ya amin ya eskwelaan tayo et ditan la man-graduate so aramay estudyante tayo, amay March anggad Abril. And it is also the start of their summer vacation.
Summer for Dagupan City is also the peak season na saramay turista ya onsasabi ta lapud bakasyon, amayamay so unsasabi uunlad Tondaligan, amayamamy so unasabi dyad Dagupan lapud ayay Bangus Festival.
Katon dakel met so kaukulan tayon gawaen ed sayay bulan na Marso in preparation for the summer months and the Bangus Festival.
And let me assure all of you in the past few days ya dire-diretso so pan pre-prepara tayo na sayay Bangus Festival, ya ipawil tayo so kalutan ed Dalan dya ed downtown. Ipawil tayo so Bangus Festival ed saray tutuo.
Natan, amayamay met so mantetepet — anta tayo met ed say balita ya atan so COVID-19, atan ya virus et wala met la ed Korea, Japan tan USA. Natan, so ibabaga tayo, let us just prepare for the Bangus Festival. Let us do the preparations.
We continue to monitor the situation ta no bilbilang labat ibaga na DOH nanagunuyan, say ibaga nen President Duterte et agla nayari so saramay mass gatherings, insan tayu manggawa na anunsyo ya ituloy o andi so Bangus Festival. At this moment in time, tuloy tuloy po ang mga preparasyon dahil pinaghahandaan po natin ang Bangus Festival.
We can always make an announcement later on kung iyon po ang i-uutos ng ating mahal na pangulo. So far so good naman, tuloy tuloy po ang ating preparasyon sa Bangus Festival.
Nagpasalamat po ako sa host ng ating flag ceremony, the City Assessor's Office led by Allan Dale Zarate. Palakpakan po natin sila.
Anta yo, wala may abasak ya quote, say angibaga ed saya et si Confucius, sakay ya Chinese philosopher nen saman. Say imbaga to, "If you want to move a mountain, you will have to start with the smallest stone."
Ibig sabihin lahat ng mga malalaking accomplishment ng isang tao, ng isang bayan, hinding hindi mo magagawa iyan ng minsanan. Kung talagang napakaganda ang nais mong ma-achieve kailangan mong paghirapan at mag-uumpisa ka doon sa pinaka maliit na bagay.
Kung titingnan po natin ang mga problema sa Dagupan, lalong lalo na po dito sa basura, literal na bundok ng basura ang naiwan na inaayos natin.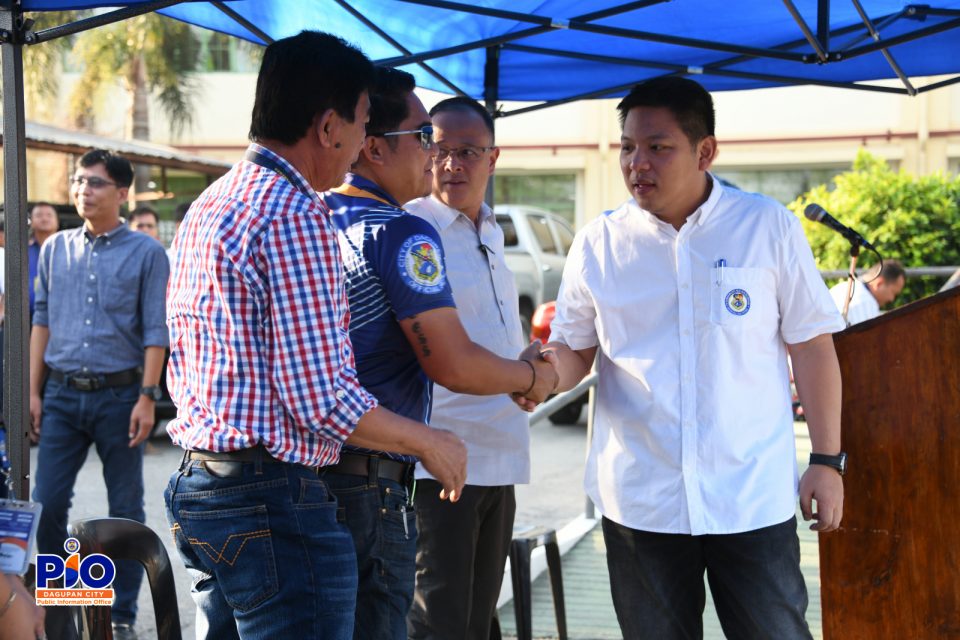 Kaya ang solusyon po diyan ay sisimulan po natin sa maliit na bagay. Ano ho iyan? Unang-una, iyon pong ipinapatupad natin na waste segregation sa bawat barangay at sa bawat bahay. Kung magagawa po natin iyan, malaki po ang maitutulong niyan sa ating Waste Mangement Division at sa ating siyudad.
Pangalawa, kinakailangang isarado na iyong dumpsite. Ginawa na po natin iyan, isinara na po natin ang dumpsite sa Bonuan Boquig at unti unti na nating ilalabas iyong mga basura. Manggagaling sa dumpsite na iyon palabas sa isang sanitary landfill.
At makikita natin in the next few months na magkakaroon na ng clearing doon sa dumpsite. Makikita nyo na rin iyong lupa sa dumpsite kung saan nakatambak iyong mga dating basura. Lalong lalo na yung mga malapit sa dagat.
Iyan po gagawin natin dahil kailangan na pong tanggalin iyong dumpsite sa Dagupan City dahil bawal po iyan.
Kung titingnan din po natin iyong ibang mga issue ng ating siyudad, ang pagbabaha, kakulangan sa trabaho, kinakailangang unti-untiin po natin iyan na bigyan ng solusyon. And hopefully in the near future, makikita po natin na magkakaroon po tayo ng improvements sa pagbibigay ng solusyon sa mga problemang ito.
Which brings me to the next quote that I will share with you from Dalai Lama. He is the leader of a Buddhist Movement.
He had a very simple yet meaningful quote. Ang sabi niya, "If you can help others, do it without hesitation."
So kung kaya niyong tumulong sa ibang tao, gawin ninyo. Pero kung hindi ninyo kayang tumulong sa ibang tao, huwag na huwag ninyo rin silang sasaktan. The least you can do is not to harm them.
Tayo po na nasa gobyerno that is what we do. We are here to help people as much as we can. But if we cannot help them, under no circumstances should we harm them also.
And I think if we live our lives with this philosophy, this very simple philosophy of helping others when we can and not hurting them when we cannot help them, I think the world and the City of Dagupan will immediately become a better place.
So I leave you with those words this morning, and wish you all a happy Monday and a good week. Salamat po and God bless us all.